South America is taking the lead on AEO and Trusted Trader Development. Perhaps a road also for the United Kingdom to follow post-BREXIT?
There has been a lot of talk about Trusted Trader concepts in the Brexit debate and how such modern programmes can support UK and EU businesses post-Brexit. Prime Minister Boris Johnson has many times mentioned Trusted Trader concepts as an important part of the post-Brexit strategy to support traders in the future.
The Alternatives Arrangements Commission, Technical Panel, in its report a few months ago proposed that the United Kingdom as soon as possible should rebuild or upgrade the present EU AEO programme to a modern multi-tiered Trusted Trader concept. So where are the international inspirational examples for the United Kingdom to find demonstrating the value for business regarding these proposals? South America is one place to look.
This week South America took a historic leap forward when landmark developments of the Authorized Economic Operator (AEO)/Trusted Trader concept was made at the Procomex International AEO Conference: Integrated regional AEO in São Paulo, Brazil. A landmark development for intra-American and international trade. More than 450 participants from 20 countries participated.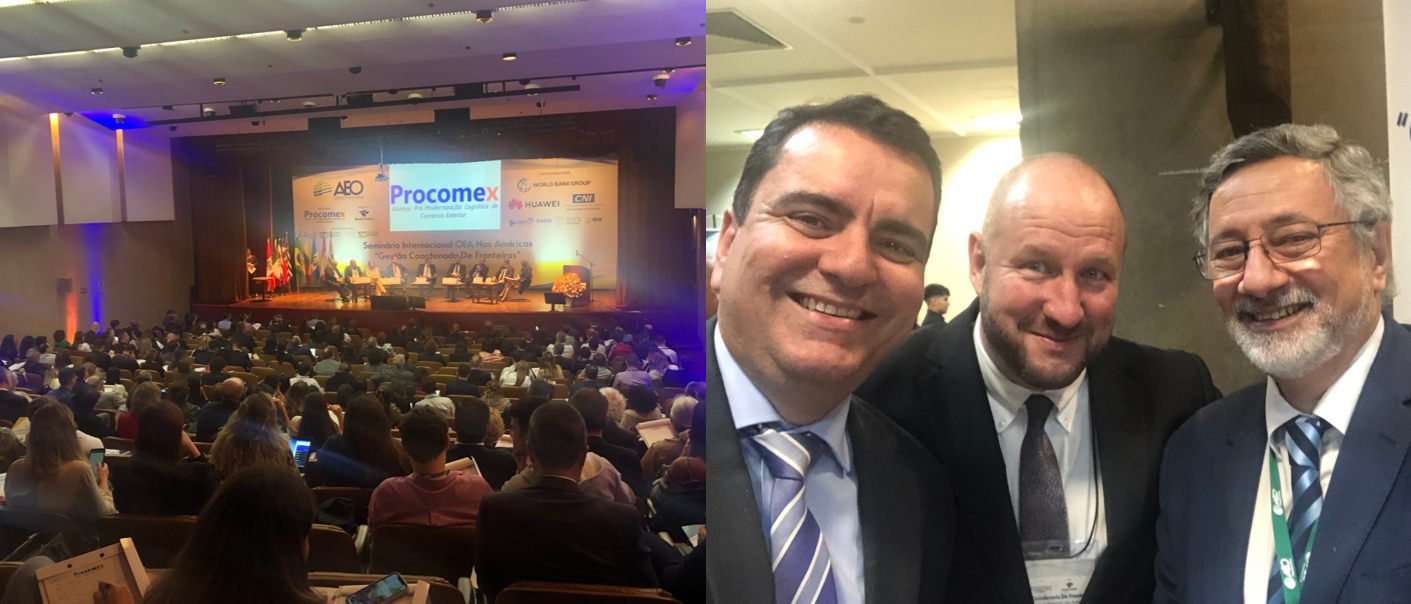 With Ernani Checcucci from the World Bank, former Director WCO and DG Brazil Customs and Enrique Canon former DG Uruguay Customs and Chairperson of the WCO.
Some highlights from the conference.
AEO Brazil is today the leading mulita-tiered integrated AEO programme in the world and it is already including the four most important border agencies in a common coordinated border management approach creating a Single Government AEO status (SGAEO).
This means that Brazil Government offers one Trusted Trader Programme (TTP) for all border agencies with one application/validation/certification process and that benefits for compliant traders are granted by all these agencies.
At the

Procomex International AEO conference

, Brazilian Federal Revenue Agency demonstrated its strong commitment to continue its leadership on AEO/Trusted Trader in the region and beyond. One part of the Brazilian strategy is to sign technical AEO/TTP Mutual Recognition Agreements (MRA) with other countries around the world - meeting the World Customs Organization standards for this area. Such a technical agreement can be negotiated and signed for operations within 3-6 months, which is considerably faster than i.e. new free trade agreements (FTAs). When an AEO/TTP MRA is signed both countries AEO companies are recognized as AEO status and receive benefits from both programmes. In addition, the standard for AEO/TTP MRA also regulates that controls and inspections should not be duplicated.
With a new UK Trusted Trader Programme post-Brexit, this is also an opportunity for the United Kingdom. Making technical AEO/TTP Mutual Recognition Agreements in line with the WCO standards an important part of the new UK Trade Policy could become a quick win for UK business.
Brazil Customs is also planning to further develop the AEO Brazil facilities for SMEs. There are already many SMSs using the AEO Brazil programme due to a tiered approach and some specific features for SMEs, however, new functions are planned to be added in the future.
Vigiagro, the Brazilian Ministry of Agriculture, one of the first agencies to sign up for the Integrated AEO programme, stated at the conference that the administration for agriculture export and import companies have been reduced with 60% due the AEO introduction, also release times for goods have been significantly reduced. Several new companies received their AEO/Trusted Trader certificates for agriculture at the

São Paulo event. Less and more coordinated sanitary and phytosanitary (SPS) inspections and controls for AEO/TTP companies speed up the export and import process and provide predictability.

Taking into account that Brazil has one of the most complicated environments to protect in the world, makes this cooperation on coordinated border management even more impressive. If Brazil can, then everybody can do this.
Nine countries last week at the conference signed the

São Paulo Declaration

to implement integrated AEO programmes with Single Government AEO status and mutually recognized between all the countries in a regional AEO. The countries are; Argentina, Brazil, Chile, Costa Rica, Guatemala, Mexico, Paraguay, Peru and Uruguay.
This is a landmark initiative and moment taking AEO to a new level and pushing South America to the global leader of AEO development, with Brazil and Uruguay as the drivers.
CNI, the National Confederation of Industry, has done an independent academic study performed by economy researchers showing that the benefits of the AEO Brazil programme have already enabled the private sector to save 1.5 billion US dollars, and the savings will grow the following years with a prediction to reach 17 billion US dollars by 2030.
Also, a wide range of AEO companies testified about the benefits of the AEO introduction. One company representative said that his company had saved more than 10 million US dollars on the AEO status, an indeed remarkable result.
AEO Brazil is a success due to vision, political will and leadership. United Kingdom has the opportunity to design, develop and implement a new multi-tier Trusted Trader Programme in line with the international standards from the World Customs Organizations (SAFE Framework of Standards). This can be done within 9-12 months.
Signing AEO/TTPS MRA with Brazil and other countries in Americas – and the almost 100 countries worldwide with AEO/TTP concepts, seems to be a great idea for the United Kingdom to promote increased trade going forward. The same is also valid for the European Union.
Note1:
A similar AEO concept as AEO Brazil was developed for Saudi Arabia Customs last year contributed to making the record-breaking improvement from position 158 to 86 in the World Bank Doing Business Review, Ease of doing business index: Trading across Borders. This index is the leading global performance measurement instrument for Customs and Border reform and modernization.
Note 2:
A great article about AEO Brazil, 'From red tape to the red carpet – how the Brazilian AEO Programme has brought Customs procedures to an entirely new level"' written by Fabiano Coelho, was published in WCO News earlier this year. The article describes the Brazilian journey to having one of the leading AEO programmes in the world. You can find the article here.
---
Lars Karlsson, CEO and MD KGH Global Consulting
Former Director World Customs Organization
Former Director Swedish Customs
Brexit advisor
Alternative Arrangements Commission Technical Panel Member
Author of the report "Smart Borders 2.0/2.1 Avoiding a hard border on the island of Ireland" for the European Parliaments Constitutional Committee