A major focus of No-Deal Brexit is how the border formalities can be solved on the island of Ireland as well as the volumes of goods going between UK and EU and passing through the English Channel on ro-ro or via the Eurotunnel. For a long period of time there were even discussions and different opinions around if there would be border procedures or not. For the professional Customs and Border community this has always been obvious – when a country leaves a Customs Union and a Customs territory there will be a customs border. When a Customs border appears, border formalities are necessary in line with the international trade legal framework.
A misunderstanding though is that a Customs border need to look like the traditional (legacy) borders we are used to see around Europe and elsewhere. This is not the case. The international standards and best practices have developed considerably over the last decades.
Smart Borders 2.0 and 2.1
In May 2017, the EU (European Parliament Constitutional Affairs Committee) asked me as international expert to do research and write an academic research report on how to design the new post-Brexit Borders between European Union and United Kingdom, based international standards and global best practices.
The report and proposal, "Smart Border 2.0 Avoiding a hard border on the island of Ireland for Customs control and the free movement of persons", was presented for the European Parliament on 28 November 2017. Since then I have been asked to give testimony at hearings also with UK Government House of Commons and House of Lords relevant committees. This was followed up by a complementary paper called Smart Borders 2.1, explaining in more detail how a modern Smart Border would work in practice.
The critical question always asked is if it is possible to have a frictionless border between UK and EU and the answer is, yes.
There are no 100% frictionless borders in operations for the moment, but there are many operational examples showing that it is possible and tests have been done on other borders.
The new border model – how it works
A Smart Border uses the maximum possibilities of the international legal framework as well as best practices from other countries. The essence of the model is to move the necessary border formalities away from the border and to do these formalities before and after.
In most examples known to date, the only formality remaining on the border is an identification of the goods transport passing the border. Different types of technologies have been developed in recent years to do this identification, like i.e. Number Plate Recognition (NPR), RFID readers, card readers etc. However it is possible to do the identification at the border also with existing infrastructure or without infrastructure.
To be able to implement this a Smart Border with no infrastructure at all at the border there must be a high level of trust between the two countries on each side of the border. In addition, there need to be a trusted trade lane involving companies with a registration as Trusted Traders which then move the border formalities and potential inspections away from the border to before and after the operational trade transaction.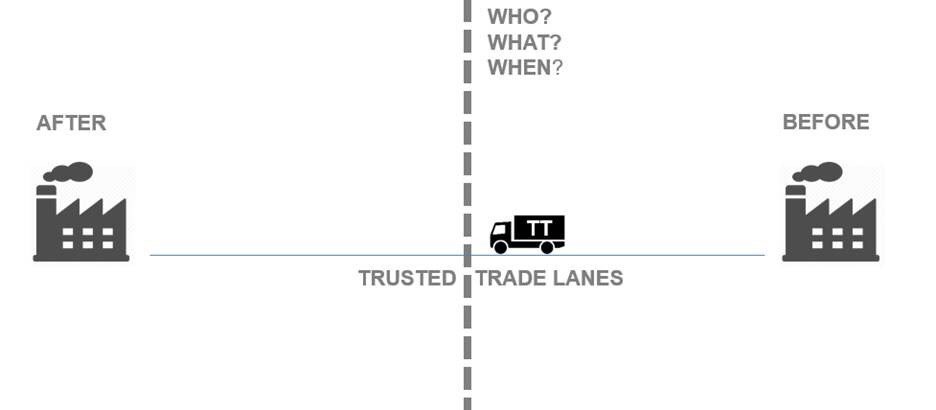 In short. A Trusted Trader on one side of the border (Dublin) is going to export goods to the other side of the border (Belfast). The Trusted Trader (exporter) make an export declaration. This can be done in several different ways. Potential controls can be done by self-assessment and/or intervention at the traders' premises. The goods is transported by a Trusted Trader (transporter) to and across the border to a Trusted Trader (importer) in the other country. The Trusted Trader (importer) does an import declaration, which again can be done in several different ways. All electronic so far. This is the Trusted Trade Lane concept and it is fully in line with international standards and conventions and included in the European Union Customs Code (UCC), the regulating Customs law at hand. The Trusted Trade Lane concept can be used at all border crossings with a transport permit system. The companies involved need to be registered and pre-vetted based on risk.
The remaining part is that Government on both sides need to know the time when the goods passes the border, since this time stamp regulates a wide range of the laws and regulations that constitutes the border formalities (the status of the goods, the ownership of the legal obligations, the time that manifests if certain rules and regulations are applicable or not etc). In my original report I described different technology solutions that can give us this time stamp, like e.g. number plate readers, RFID technology, CCTV cameras (active border identifier solutions), GPS/GSM technology (Passive Border Identifier solution) and many other options. However, with maximum trust between two parties we can also let the Trusted Trader report this time stamp.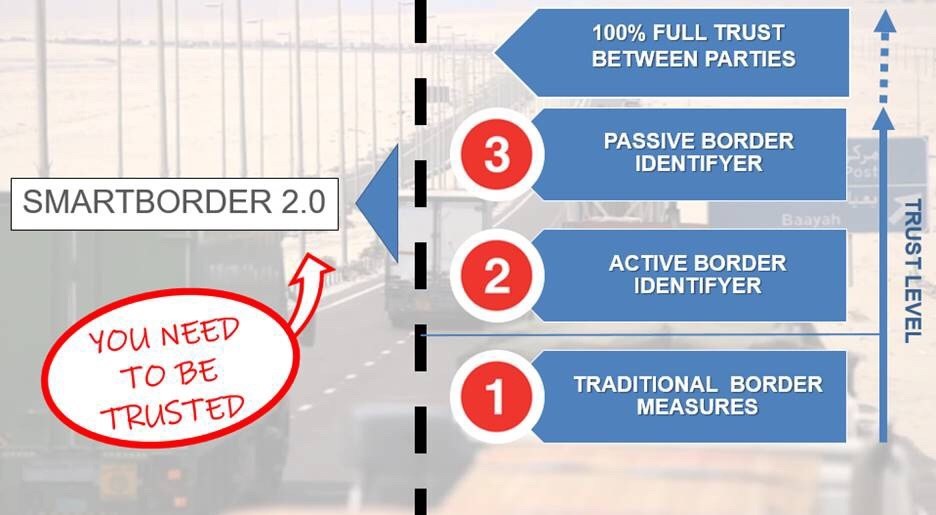 The level of trust decides what border identifier to use. A solution could be to use the highest level of trust on the border between Republic of Ireland and Northern Ireland while using trust level 3 on all other borders.
What it takes to do it
Let me underline that this model is more about a change of processes and working methods, as well as use of existing customs techniques - than is about technology. There are still a need for a soft infrastructure to be designed, developed and implemented. Government agencies needs to work differently than in the past, private sector needs get a registration and to change behavior. There are additional costs involved.
How long can it take to implement such a model? Can the model be implemented during a potential transition period? My answer is and has always been - yes, it can. As stated to the UK Parliament. What it takes to do it? Political will on both sides.
The new Trusted Trader Programme
A second clarification of my proposal of the report is that Trusted Trader programme referred to in the Smart Borders 2.0 proposal and is very different from the existing Authorized Economic Operator (AEO) programme in EU and United Kingdom. AEO is model where Customs administrations – in line with an international standard – certifies companies based on risk mapping and validation of specified criteria making sure that these operators have a high level of compliance and security and a low risk. In return, AEO companies are provided with simplifications and facilitation (speed, predictability, service and lower cost) for proven maintained compliance levels and low risk.
Let me be 100% clear here. The Smart Border 2.0 cannot be implemented and offered to enough of companies using the present AEO model. This will not provide a model that can be scaled and used in a systematic way.
I am proposing that a new Trusted Trader programme is developed. The present EU AEO programme, also used in UK, celebrates 11 years this year. It is legacy system and I was involved in the process of building that programme a long time ago.
The international standards that regulates AEO is the World Customs Organization (WCO) SAFE Framework of Standards. The WCO member states (today 182 countries) adopted the standard in 2005. All of the early adopters and older AEO concepts have similar structure and the same challenges. Threshold are too high, the cost to join is too high and the benefits for companies are too few. Still there are almost 50.000 companies in the world that have applied for and maintains AEO status; a large number of these companies are located in the European Union. Today more than seventy countries have operational AEO programmes. Many more are building new modern programmes as we speak, in fact more than 100 countries have AEO and Trusted Trader Programme today.
The new and modern AEO concepts – or Trusted Trader Programmes, which is a more appropriate terminology, developed the last five to six years are very different from the older models. If you want to know more about the differences between an AEO concept and a wider Trusted Trader programme, I recommend you to read an article that I wrote for the leading academic journal in the Customs world, the World Customs Journal [click here, World Customs Journal].
So what could a new UK Trusted Trader Programme (TTP) look like? This is my proposal: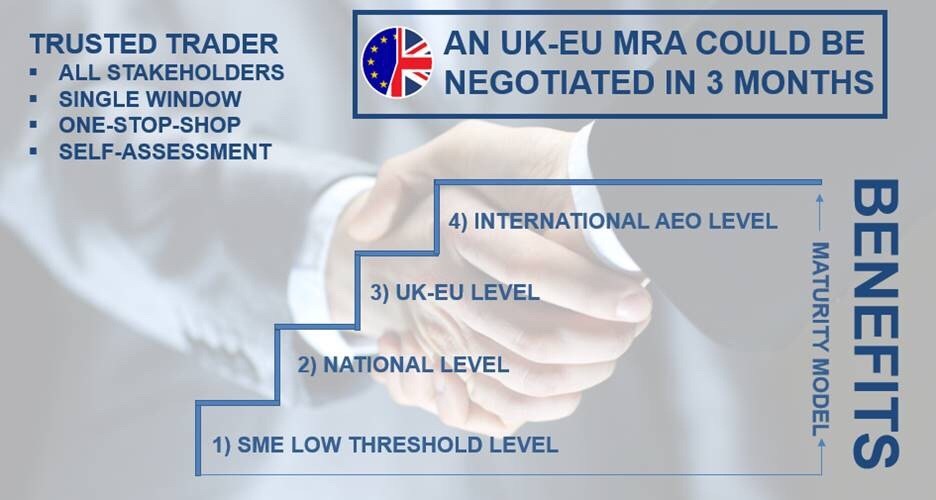 UK needs a modern multi-tier TTP, based on fully digital processes, low thresholds, advanced automated monitoring and a state-of-the-art attractive benefit programme, embracing the present AEO companies, and with a strategy to sign technical mutual recognition agreements with all trading partner, EU and in the rest of the world. Technical Customs Agreements are much faster to negotiate than Free Trade Agreements.
Alternative Arrangements
In July the Prosperity UK Alternative Arrangements Commission (AAC) presented its proposal on how to replace the backstop. I participated as international expert on the AAC Technical Panel. Some of the key proposals in the AAC Report includes the Smart Border principle. You can find the AAC report here: https://www.prosperity-uk.com/aacabout/
The conclusion
Can Smart Border 2.1 be the answer to the Irish border challenge? Can the same model, maybe with a slightly different application be used for the English Channel traffic? Can it be used in ports and airports?
Yes, I am one hundred percent convinced that this model can solve the border issue not only on the island of Ireland, but also for the huge amounts of goods that passes every hour the English Channel through the Eurotunnel or via the ferries from Dover to Calais as well as for other transport modes.
On the border crossings at the English Channel – and in other places for other transport modes – we can use the modern technology described in my report and in the pictures above on one level below the application at the island or Ireland.
Some people claim that the technical and technology solution I have presented does not exist anywhere in the world. This is not true. All parts and components exists in operations.
UK needs one operational model that can be applied in a systematic and simple way for maximum facilitation and optimal security of the borders. This is important both for EU and UK, for both Government agencies and for traders.
The Smart Border provides that solution.
---
Lars Karlsson is CEO and MD of KGH Global Consulting. Lars Karlsson is also one of the most well-known customs leaders in the world and has an extensive background with over three decades in Customs, borders and international trade policy. Before joining KGH, Mr. Karlsson was Director of the Word Customs Organization (WCO) and prior to that Deputy Director General and Managing Director of Swedish Customs. Lars Karlsson has a Doctor of Education (Honoris Causas) from Charles Sturt University, Australia and holds a Masters in International Customs Law and Administration. Mr. Karlsson is also Chair of the Advisory Board of the International Border Management and Technologies Association (IBMATA), honorary fellow and Board Member of the International Network of Customs Universities (INCU) and is Advisory Board member of the International Summit on Borders (ISoB).
If you want to read the Smart Border 2.0 report, it is in the public domain and you find it here: Smart Border 2.0: Avoiding a hard border on the island of Ireland for Customs control and the free movement of persons'