On Wednesday September 18th UK Government, the Treasury (FST) and HM Revenue and Customs (HMRC) officially launched the UK Customs Academy at an event at the House of Commons in Westminister, London.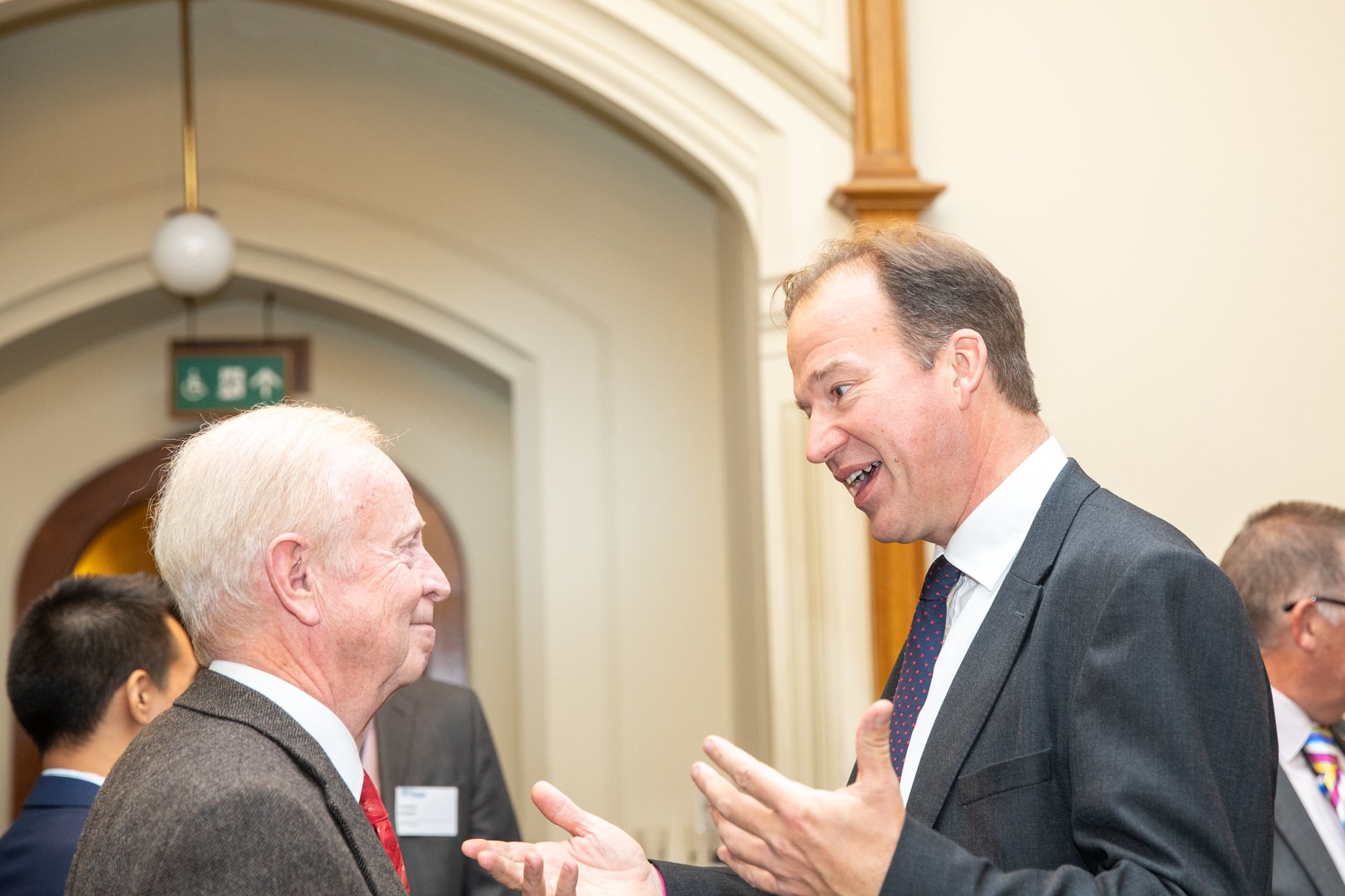 Lord Empey ODE and Financial Secretary to the Treasury Jesse Norman MP.
UK Customs Academy is the world's first online Customs Academy marking a vital step towards ensuring UK businesses can trade confidently over borders post-Brexit. The UK Customs Academy offers a necessary cost-efficient way for traders to increase and further build their competence and capacity in Customs processes making it possible to trade in a globalized world.
However, it is also so much more than this. Customs has never been more important than now. We live in a world where international supply chains and global value chains get increasingly complex and complicated. At the same time, international trade more and more becomes the driver of our economies and the engine for growth, job creation and poverty reduction.
To be a part of international trade in the future every company, large, medium or small, will have to have a Customs and Border strategy and traders will have to be fully compliant with the many formalities of international trade. For many years Customs matters in companies were treated as a complicated necessary evil, delegated to lower levels with an aim to keep the costs for the formalities as low as possible. This is not possible today. If there is one single that the three years of Brexit has taught us, it is that the area of Customs is extremely important to any company involved in international trade. Customs is a strategic matter that belongs in the board rooms of companies. If the classification of a companies' articles is wrong it is not only a financial matter big enough to cause serious damage to any multination, but it is also a compliance risk that can shut down a business. Through the Brexit process, most people have learned that Customs formalities, inspections, classifications of goods, rules of origin, cumulation, IPR, export regulations, security declarations, SPS rules, INCO terms etc. - all are important parts of producing, assemble, buying and selling goods and services. This is not a trend that will go away when Brexit dust has settled, it is a trend that is here to stay.
The key is competence. Every company involved in international trade need to have the necessary Customs competence to survive in the future. We need capacity building. The UK Customs Academy is a unique opportunity for every relevant person in every company involved in global trade to get the right competence to do the job in a compliant way. The UK Customs Academy Customs Academy offering a comprehensive development pathway for Customs professionals
In addition, it is extremely positive that UK Government, The Treasury, has announced £16m of funding for the training of Customs experts in preparation for Brexit. The fund will cover 100% of the cost of training for employees up to a limit of £2,250 for each course. This funding will be applicable to all the courses provided by the UK Customs Academy. Find out how to apply here.
The Academy offers a recognized development pathway for customs professionals that comprises six qualification levels.
Each qualification level articulates into the higher-level awards, in order to provide a clear learning pathway for the aspiring customs professional.
Professional recognition is provided to graduates by the UK Customs Academy as a Level 3: Associate Customs Practitioner, a Level 4: Certified Customs Practitioner and a Level 5: Accredited Customs Professional.
On top of that further on-line studies through the UK Customs Academy and via the Center of Customs and Excise Studies (CCES), which is the leading Customs academic institution worldwide, can lead to a level 6 Graduate Certificate in Customs Administration, a Level 6 Graduate Diploma in Customs Administration and a level 7 Masters of customs Administration. This is just the start. All countries will follow this trend, to offer on-line training and education for traders.
This is a remarkable opportunity to take Customs professionals to the next level of competence and capacity, ready to face the challenges and opportunities of global trade in the future.
As many economists have stated for a long time, trade is the pathway to prosperity. The UK Customs Academy offers a development path for all the people working in the sector today but is also generates fantastic possibilities to bring new talented workforce into the international supply chain generating an extremely valuable asset of new capacity for any trading nation.
The UK Customs Academy is a great investment in the future, in fact, the UK Customs Academy is the future. Do you want to increase your capacity to shape the future? Do you want to be a part of the most dynamic area of the global economy? Now is the time to do it. What is stopping you?
The UK Customs Academy is here.
---
Lars Karlsson, CEO/MD of KGH Global Consulting, KGH Customs Services
KGH is the leading Customs education company in Europe and the partner of Treasury/HMRC in the design, delivery and management of the UK Customs Academy.